What is B-Recruited All About?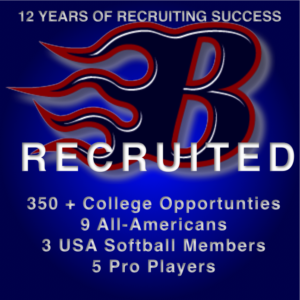 The Texas Blaze B-Recruited Program is an innovative approach to helping athletes with their dream of collegiate softball. The program is a model-based equally on technology and interpersonal relationships and has helped more than 350 athletes with opportunities to play softball in college!
With the Blaze model, you will not require any 3rd party recruiting sources to be successful. The Blaze utilizes both technology and relationships with college coaches that have been built and maintained for more than 10 years! Quite simply, the B-Recruited program works whether a player aspires to play in the SEC or get started at a JUCO to transfer to a four-year college.
OUR PILLARS FOR SUCCESS
INTERPERSONAL RELATIONSHIPS
For more than twelve years, Blaze recruit coordinators have been building and cultivating relationships with college coaches around the country. This is incredibly important to recruiting success and a component that many travel ball teams struggle with. College coaches want to "trust" the environment the player they recruited is coming from. They Blaze program has proven time and time again that our kids are correctly developed for success at the next level. For the Blaze athlete, having experienced recruiting coordinators in their corner cannot be understated. Whether a player needs advice on what schools are looking for, or perhaps camps to go to Blaze RCs can help.
SPORTS RECRUITS
SR is a software platform that aids the college recruiting journey is so many ways. It's truly remarkable software. Players use SR to aggregate all information that is needed to create and market their resume to college coaches. Players can do all the research required to make decisions on college choices. Want to search all programs within 240 miles of home or every D1 in the country? Want to know how much the college costs annually? Want to know how big the school is or if it specializes in the graduate program you are most interested in? Want access to all the coaching staff emails? All of this is possible with SR Recruit Software.
In addition, players can see if coaches have opened their profiles and/or watched their videos. College coaches can interact and email players within the software platform. Blaze recruit coordinators also have access to player accounts to help them with the process of networking with college coaches. There are many more features, but the bottom line is players now have ONE PLACE to manage their recruiting progress.
TECHNOLOGY & DATA
The Texas Blaze is partnered with On Deck Softball, Blast Motion, Virtual Combine, Athletes Go Live, Rapsodo, Wasserman HLT and One Softball for additional recruiting tools that colleges now seek from programs. College coaches want data and player development, and these companies are some of the best at it.
ON DECK SOFTBALL
Since launching The Allister Report in 2002, OnDeck Softball has expanded to nationwide recruiting events and online resources. ODS programs have helped thousands of players earn spots on teams at Junior College, NAIA, Division II and Division I programs.
In fastpitch softball, OnDeck Measurements (ODM) is the recognized authority in objective measurable, comprehensive raw softball athletic data. Individual objective scores and the corresponding Allister Index (AI), have become the most essential objective statistical measurements in player assessment, self-evaluation, and player development. The Allister Index is a measurable snapshot of a player's softball athleticism. The number is generated from the individual's scores and put into a proprietary algorithm, giving players clear, tangible, and achievable goals. Learn more about here: https://ondecksoftball.net
BLAST MOTION
The Blast solution collects and presents objective information, helping coaches and athletes transform data into improvement insights. Capture and analyze details of every hit with simple stats and graphs. Set goals and monitor progress over time to identify performance trends and areas for improvement. Blast Connect offers college coaches comprehensive team data, a rich set of player analytics, reporting, video, and historical insights. This information offers a more complete and objective view of each athlete's hitting potential, giving college coaches the ability to find recruits quicker and qualify their selections with objective information. Learn more about here: https://blastmotion.com
ATHLETES GO LIVE
The AGL platform is the most popular way for college coaches to virtually watch teams perform in games, clinics, combines ect. This live streaming platform is helping to change the way recruiting will happen in the future. Learn more about here: https://athletesgolive.com
VIRTUAL COMBINE
VC is a new platform centered around data. The Blaze recently partnered with VC to be the hub of data-driven performance metrics. College coaches can search for Blaze athletes utilizing any attributes that are important to them. For example, if they want to know who is the fastest kid in the Blaze, that info will be available in a professional online website.  Learn more about here: https://virtualcombine.com
4 FLAMES ATHLETIC EVENTS
4FA is a sister company to the Blaze that runs events geared towards helping Blaze athletes get recruited. Events include national-level college exposure tournaments along with virtual combines that are digital showcases with live streaming and on-demand content for Blaze players to get exposure to college programs. Learn more here: https://www.4flamesathletics.com
The B-Recruited program utilizes all the above tools to create an advantage for Blaze athletes to gain college softball scholarship opportunities! This is one of the nations leading recruiting models for any travel program. Focused on the future of recruiting, the B-Recruited program offers everything needed for a college-bound athlete to be successful in their recruiting journey.
The B-Recruited Program costs $75 per season, once in Fall, and once in Spring / Summer.
So what are you waiting for? Its time to B-RECRUITED!